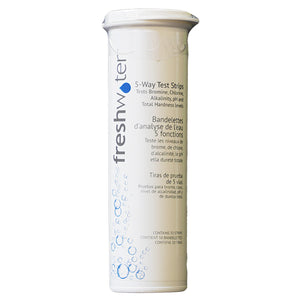 FreshWater 5-Way Test Strips. Bottle of 50 Strips.
Tests For:
Chlorine
Bromine
pH
Alkalinity
Total Hardness
Measuring and maintaining your hot tub water chemistry is an essential part of maximizing your spa's lifespan and enjoying the full benefits of hot tub hydrotherapy. Use the FreshWater 5-Way Test Strips to quickly and effectively measure 5 essential chemicals in your spa water.
Purchase a total of $75 worth of product and receive free shipping.