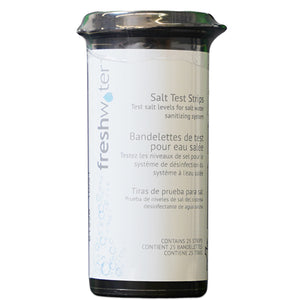 FreshWater Salt Test Strips. Bottle of 25 Strips. Test salt levels for salt water sanitizing systems such as FreshWater or ACE.
Regularly testing your saltwater hot tub's salt content is essential to ensuring that your salt system is running effectively and safely sanitizing your hot tub water. Use the FreshWater Salt Test Strips to easily and quickly get an accurate salt content reading. 
Purchase a total of $75 worth of product and receive free shipping.