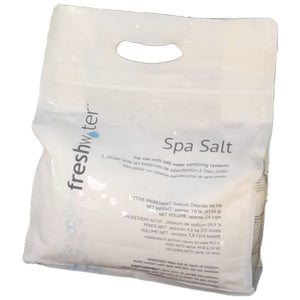 FreshWater Spa Salt - 10lb. Bag for use with salt water sanitizing systems including FreshWater and ACE salt water systems. Maintaining the proper amount of salt in your salt system is essential to ensuring your salt system is functioning properly. Includes a scoop.
In most circumstances and for most hot tubs, this 10lb. bag provides enough salt to last a full year, with smaller models often needing just one 10lb. bag every two years. Please note that salt usage does vary, and this is not a guarantee. Refer to the table on the bag for information on how much salt to add to your spa based on gallon capacity.

Need salt test strips?