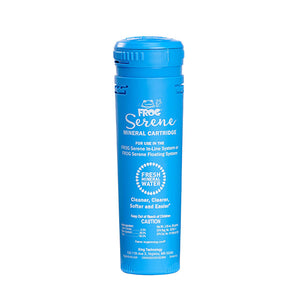 FROG Serene Mineral Cartridge
For use in FROG Serene floating system or with the @ease In-line system built into some Hot Spring Hot Spot Series Spas and Caldera Utopia and Paradise Series Spas. 
The FROG Serene Mineral Cartridge provides the necessary minerals to keep your hot tub water clean and sanitized while eliminating guesswork. The easy to use pre-filled cartridges provide about 4 months of signature serene Fresh Mineral Water. 
The FROG Serene Floating System utilizes mineral and bromine cartridges designed to destroy bacteria, reduce bromine use by up to 50% and improve the overall quality of hot tub water. The minerals last up to four full months, while the bromine can be dialed in to meet your precise needs, usually about three weeks per cartridge. Just snap the two cartridges into the floating cap, or into the @ease In-line system, and relax!
Please note: This product packaging may vary.