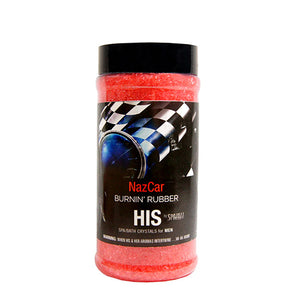 There is nothing more exhilarating than a day at the races with the boys! It's 94 degrees out and the trophy girls are looking even hotter. There's the smell of burnin' rubber and the growl as the cars go by. The only way to cool down after that is a relaxing evening in the hot tub! Relax and soak in our all natural blend of vitamins and minerals and have some good clean fun!
Additional Information:

17 ounces / 482 grams

All natural ingredients

Spa Safe & Oil Free

Anti-inflammatory

Stress Reliever
If you choose to Subscribe and Save, you will receive FREE SHIPPING. To get Free Shipping on this and future subscription orders, be sure to enter the code: FREESHIPPING at checkout. The discount will be applied at the time of the next order. You will be billed for you next shipment, when your next order comes due. 

If you would like to manage your subscription orders, please be sure to sign up for an account, when prompted.