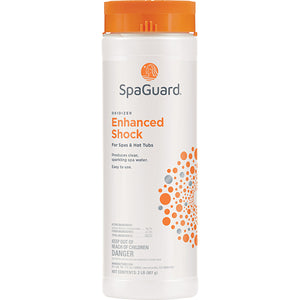 SpaGuard's Enhanced Spa Shock provides four essential benefits in one easy to use container. The Enhanced Spa Shock treats your water effectively and quickly, working in as little as 15 minutes. It also restores water sparkle, removes unpleasant odors, and provides a pH buffer. The Enhanced Spa Shock is compatible with chlorinated or brominated spas and those using ozone or ionization systems.
Do you need hot tub water test strips? Click here!
To get Free Shipping on this and future subscription orders, be sure to enter the code: FREESHIPPING at checkout. The discount will be applied at the time of the next order. You will be billed for you next shipment, when your next order comes due. 
If you would like to manage your subscription orders, please be sure to sign up for an account, when prompted.