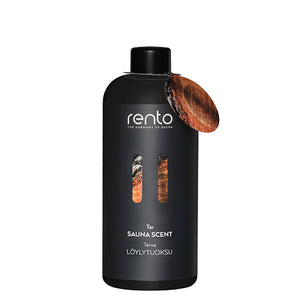 Tar sauna scent brings to mind a summer cabin, with the smoky fragrance of a warming sauna.
13.5 fl. oz.
For an aromatic sauna experience, add 2-4 capfuls of the Rento Tar Sauna Scent to a sauna bucket filled with water. Once ladled onto a hot sauna stove, the fresh fragrance will create a crisp yet gently-scented sauna steam. Be sure to shake before use and afterwards, removing the bottle from a hot sauna when done.
 Product packaging and design may vary.