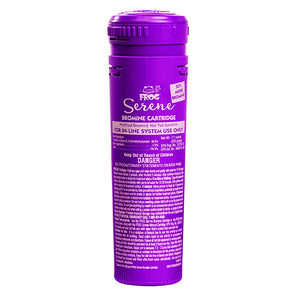 FROG Serene Bromine Cartridge 200 gram size for the In-Line Cartridge System. The In-Line system is one of the easiest ways to maintain your hot tub water. Simply replace the cartridges every 2-5 weeks depending on your hot tub usage. The 200g cartridge provides 33% more Bromine than standard FROG Bromine Cartridges, extending the time between cartridge changes!
Works with In-Line Cartridge Systems only. Use the FROG Serene Bromine 150g for the FROG Floating System.
For use with the FROG In-line Chemical dispensing System. Standard on many Caldera Spas, Hot Spring Hot Spot, and Marquis Spas Models.
Product style and packaging may vary.