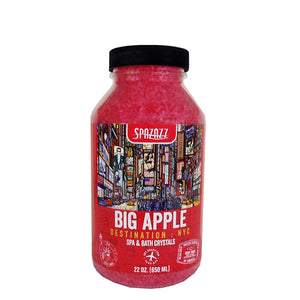 Adventure begin with a sunny morning stroll on the winding paths of Central Park, lined with wildflowers and fresh-cut-grass. As day turns into late night, the razzle dazzle of Broadway brings out the crisp scent of sparkling apples, the neon lights of Time Square, and the light breeze of the Harbor.     ~ Waiter, I'll have what she's having ~
Additional Information:

22 ounces / 650 ml

All natural ingredients

Spa Safe & Oil Free

Anti-inflammatory

Stress Reliever
If you choose to Subscribe and Save, you will receive FREE SHIPPING. To get Free Shipping on this and future subscription orders, be sure to enter the code: FREESHIPPING at checkout. The discount will be applied at the time of the next order. You will be billed for you next shipment, when your next order comes due. 

If you would like to manage your subscription orders, please be sure to sign up for an account, when prompted.