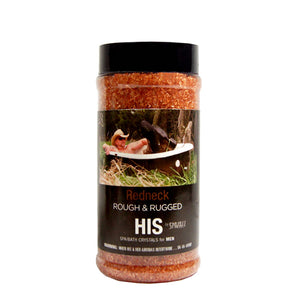 Down home American boys, 'bout as rough and rugged as they come! These aren't city boys. They're out riding horses and chasin' girls! They work hard and play harder, if you know what I mean. When it's time to play, we have the perfect solution for you. Red Neck Rough & Rugged was made just for you! After a relaxing evening in the hot tub with a few friends, you'll agree!
Additional Information:

17 ounces / 482 grams

All natural ingredients

Spa Safe & Oil Free

Anti-inflammatory

Stress Reliever
If you choose to Subscribe and Save, you will receive FREE SHIPPING. To get Free Shipping on this and future subscription orders, be sure to enter the code: FREESHIPPING at checkout. The discount will be applied at the time of the next order. You will be billed for you next shipment, when your next order comes due. 

If you would like to manage your subscription orders, please be sure to sign up for an account, when prompted.