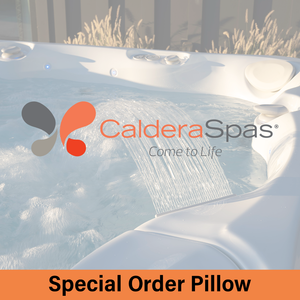 Don't see your Caldera Spa pillow in our Online Store? No worries, we offer Special Order Pillows for Caldera Spas! 


Caldera Special Order Pillow are available for:


Any Legacy Caldera Spa including, but not limited to,
Caldera Utopia Spas 

Caldera Paradise 

Spas 

Caldera Vacanza 

Spas 

Caldera Highland 

Spas

Caldera Aquatic Melodies 

Spas

Caldera C-Series Spas

Caldera Oasis Spas

 
Order now, and our team will contact you for more information, and to collect any remaining balance, if necessary. Pricing for special order pillows varies. 

Due to the special order nature of this product, delivery may take up to 8 weeks.

Questions or Concerns? Feel free to reach out to one of our hot tub pillow experts, by calling 775-852-3838. We're here to help.